Wendy Wergeles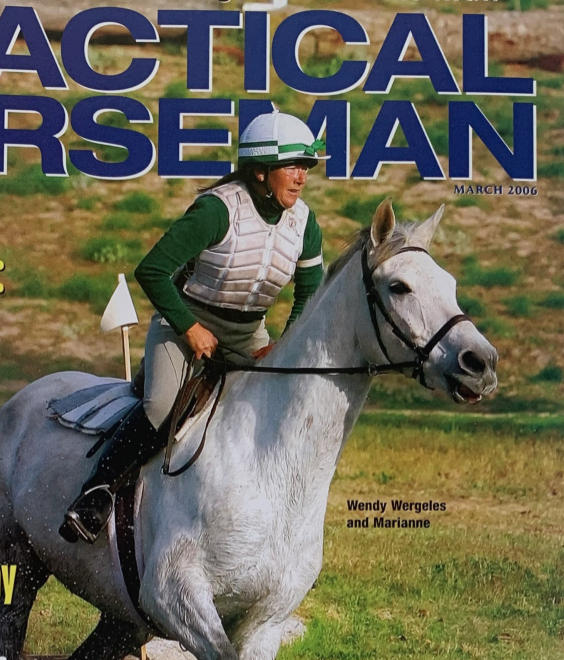 Wendy Wergeles has been a trainer-in-residence1 at Cottonwood Ranch for over 20 years and supervises horse care and client relations. Wendy has competed successfully through the Advanced/4* level receiving the then AHSA (now USEF) Zone 10 Advanced Level Reserve Championship.   She holds a USEF "R" Eventing Judges license and a USEF "S" Technical Delegate's license, is certified to judge the USEA YEH & FEH competitions as well as having her USEA-ICP Level III certification. She is also an ASEA Lifetime Certified Equine Appraiser. When time allows, she enjoys hunting with the Santa Ynez Valley Hounds.
In 1988, she coached the USEA Area X North American Continental Young Riders Team and currently instructs and coaches students from the subterranean through the Advanced levels at the Ranch and in clinics throughout North America. In 2013, she was honored with the USEA Cornerstone Instructor's Trophy. Since 1999, she has focused on the starting &/or re-training of mostly young Thoroughbreds but started and sold the noteworthy ranch-bred warmbloods, "R-Star" and "Fleeceworks Royal".
Wendy created, trademarked and organizes The Event Derby® series of competitions and produced the Elite Event Horse Auction (EEHA!) held in conjunction with the spring Galway Downs International Horse Trials. She initiated the Cottonwood Classic Three-Day which is now known as the USEA Classic Three-Day Event competitions held throughout the U.S. Additionally, she was the Organizer or a Co-Organizer of the Flintridge Horse Trials, the Event at the Downs, the Las Vegas Horse Trials, the Silk Purse Ranch Horse Trials & 3-Day Event, the Diamond L Horse Trials, the Brusally Ranch Horse Trials, the Flying Fox Farm Horse Trials, the Coconino County Horse Trials,  the Eastern Townships Horse Trials, the Eastern Townships Children's Horse Events, and the Quebec Championships. Additionally…….she was a Co-Creator and Organizer of the Los Alamos Dog Races, Bark for Books! Benefiting our local library. She has been a member of the USEA Board of Governors, the USEA Strategic Planning Committee and ad hoc DX Eventing Committee, a founding member and past President of Las Vegas Equestrian Events, Inc. and a founding member and past Vice President of the Equestrian Medical Safety Association.
1 Cottonwood Ranch does not provide riding instruction. Arrangements for instruction with Wendy should be made directly with her.
Wendy can be reached at wergeles@earthlink.net and (805) 714-7181.
Ranch Staff